Urban Pulse by A Smart City Platform of tomorrow

Real-time data feeds using open connectors for large variety of systems and technologies

Pre-processing of incoming data feeds for real-time event management (sub-second)

Data Storage and Analytics in real-time (machine learning; AI)

Visualization of data to provide insight to decision makers

Interaction and controls between connected systems

Operational worldwide leveraging best in class cloud infrastructures
[ui!] Urban Pulse is used by more than 40 customers in 6 different nations (Cities, Ports, Utilities, Transport Authorities)

More than 80 different systems/technologies have been integrated so far (vendor-independent)

Customers benefit from our existing connector library

New connectors to just any system/technology can be developed very easily

Every single customer is provided with it's own platform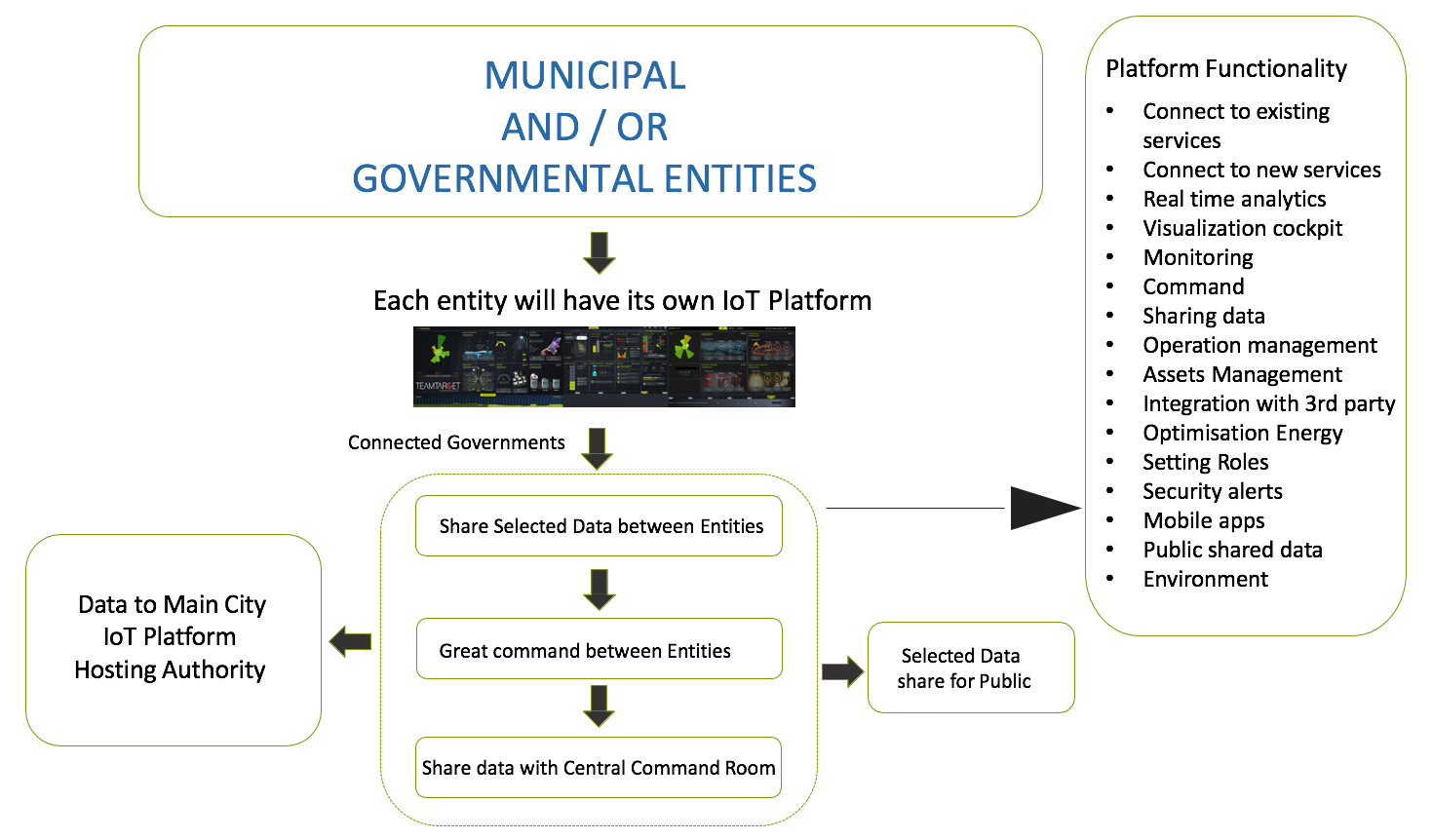 How does it work?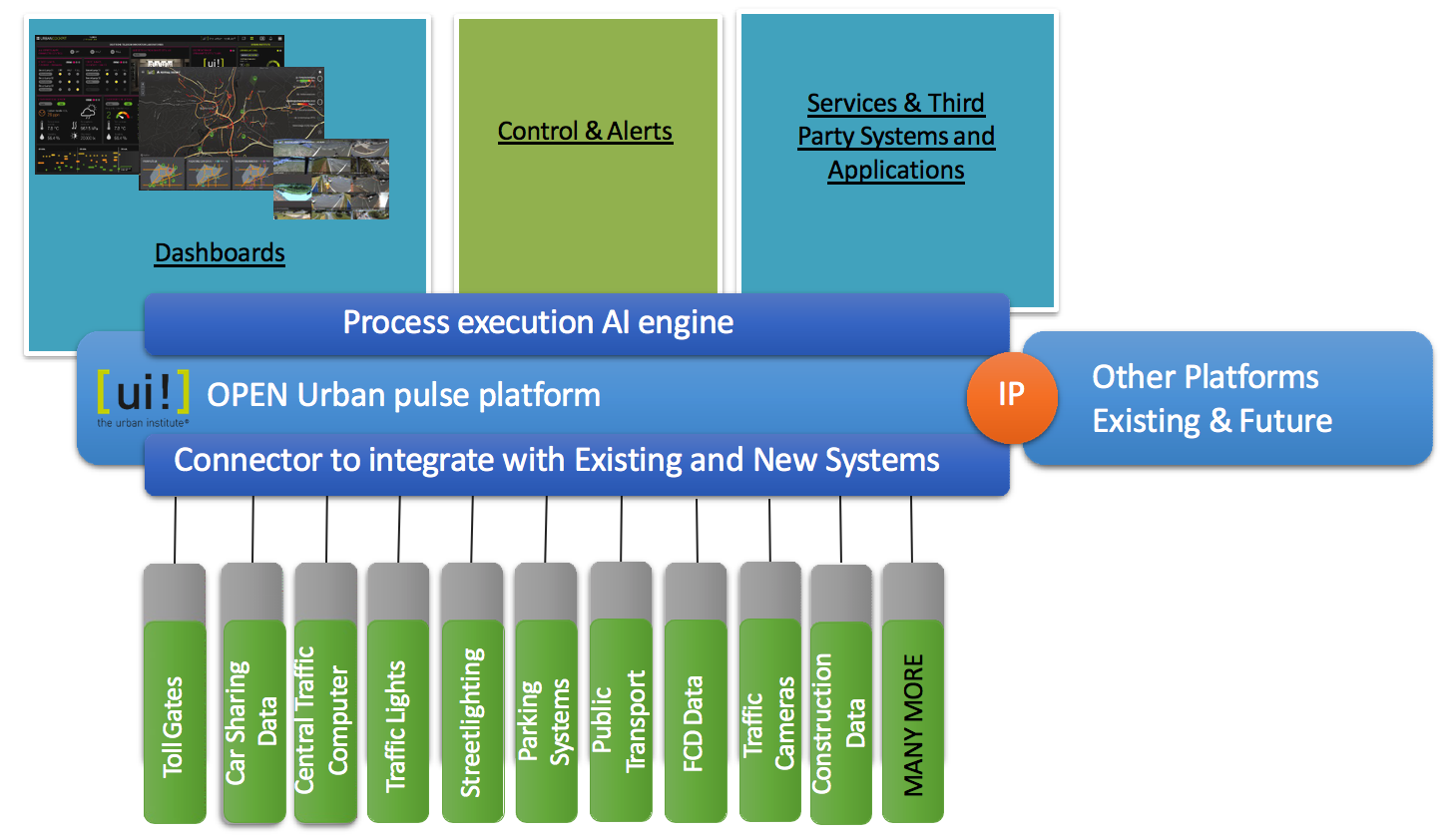 Sectoral Use Case Road & Traffic Safety
Via our Ui Urban Pulse IoT platform we can provide below integrated real time and analytics Solutions:
Real-Time Traffic detection (multi technological) and Share Data with Police
Real-Time Parking detection and Smart Parking System
Fusion of multi traffic/parking data sources (e.g. FCD, Cams, Central Traffic Computer)
Real-Time Traffic Mobile App Traffic Light Prediction (based on AI; ready for automotive backends)
Traffic/Parking analytics (e.g. preliminary investigations; real-time analytics)
License Plate Recognition and or integration with exiting system
(Future) Digital License Plate – sourcing Data from all Vehicles
Connected vehicles : V2V , V2I and V2X Smart Bus Shelters with Real time Passenger information RTPI and Smart Bus Stop signage
Public Transport Monitoring and predictive analytics (e.g. vehicle tele-metrics; passenger information)
Mobility Hubs : Integrated public smart transports : Bus , Taxi , Bike , Electric scooters , Car sharing , electric wheelchair
Data from Sky : CCTV ( New or Existing ) , Drone ( traffic and security update )
Intermodal Mobility Platform (based on AI)
RDS Radio Traffic announcement
HD Mapping and HD Positioning
Integration with Vehicles Navigation system – 60-70% of Vehicles
Real-Time Visualization Cockpit – customized tiles and information
Open Urban Smart City Platform and Share Data with other entities
There is an unstoppable trend in the construction of new buildings to generate the electrical power on their own. This power is used to cover not only the own consumption but it is also useful to store overproduction or to provide power to other buildings in the area. Our IoT Urban Platform [ui!] is able to manage the process like that to create a smart, predictive and automated decisions in managing the generation, storage or distribution.
92% of the worlds population is affected by air pollution. As an result, there is a growing need for low cost direct pollution measurement in order to combat growing air quality concerns. Recent data from the European Environment Agency (EEA) shows that air pollution, even in Europe, is still above the limits and guidelines of the European Union and the World Health Organization. For instance, Germany, France and the UK have been sued by the EU in 2018 over exceeding air quality limits.
For public areas, where people spend their time with families and friends, it is even more important to take care of the environmental conditions, clean air and crisp visualization of the ecological facts.
To get an overall and practical view about the spread of pollution and to get a better understanding of causes and influencing factors, cities need much more measuring devices all over the their vicinities. The overall situation is promising a strong increasing demand for low-cost air-quality sensors to create transparency on a high-scale and to monitor trends permanently.
With our IoT Platform [ui!], it is possible to start automated real-time actions triggered by other control systems – this way we make an positive impact and influence the progression (or rather regression) of the pollution!
The invention of LED has brought the world a significant saving in terms of energy; however, this is not the point where we should stop improving! We stand by the premise, and we design and utilize renewable and solar energy sources wherever possible. Sometimes 100% lighting is great to have, but only in situations when it's really needed.
Our technology adapts to the variety of the situation that can happen. It doesn't really matter if higher traffic on the route is detected, or weather stations reports foggy weather, or noise sensors measure higher density of people moving and talking in the park, the [ui!] platform in the background always adapts to the ideal configuration.
The system is suitable for endless scenarios:
Public Roads
Offices
Schools
Shopping Malls
Factories
Parks
An Example of [ui!] Dashboard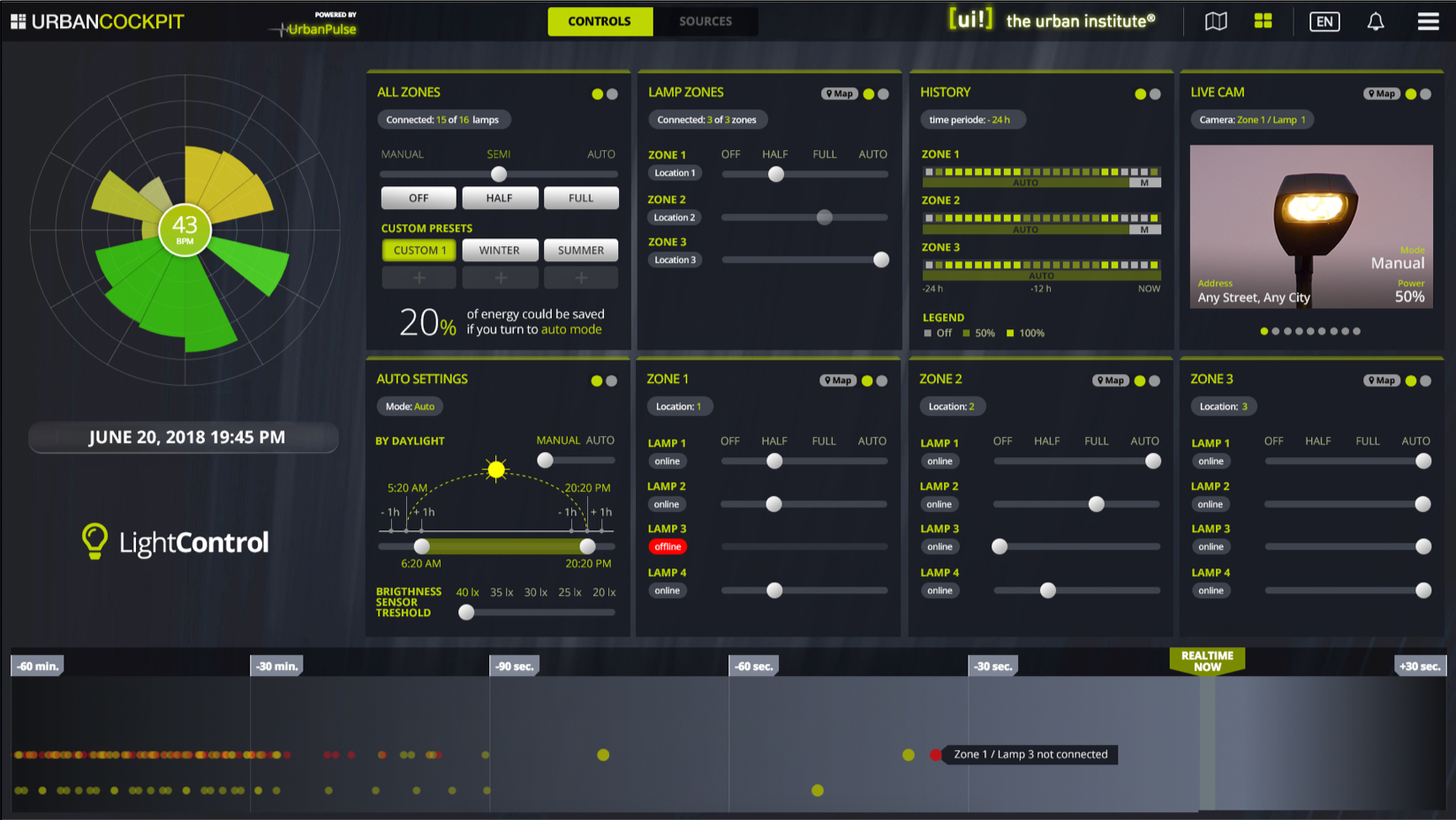 With the energy demands growing every year and trends leaning towards renewable energy sources, there is no staying behind.
We design, customize and develop renewable energy-based systems, including EV charging stations, solar street lighting and connectors, which we connect to Smart City Ecosystem called Ui.
This seamless integration between controllers and cloud platform provides a new level of saving the planet and cost efficiency at the same time through converting solar energy into electrical energy during the day and storing it in an lithium battery, which is then gradually released from dusk to dawn.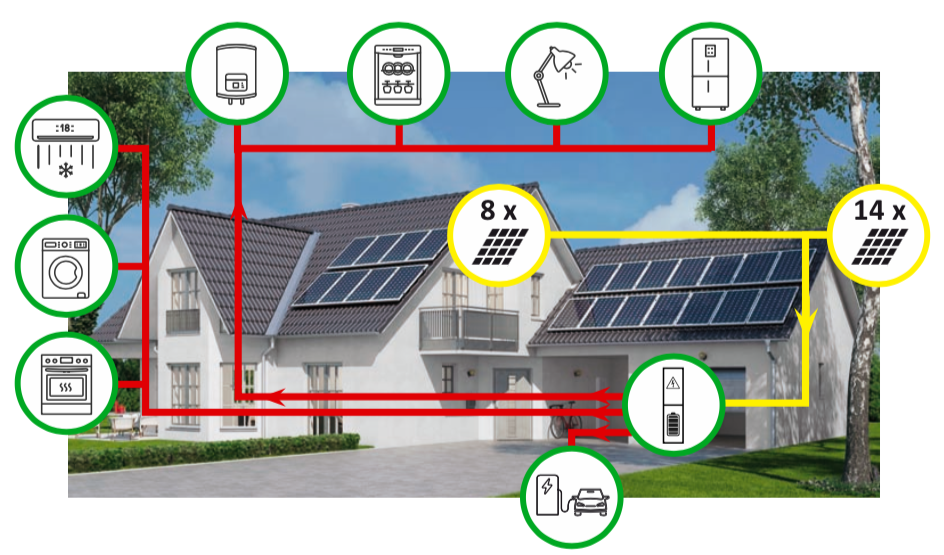 Traffic-Controlled Lighting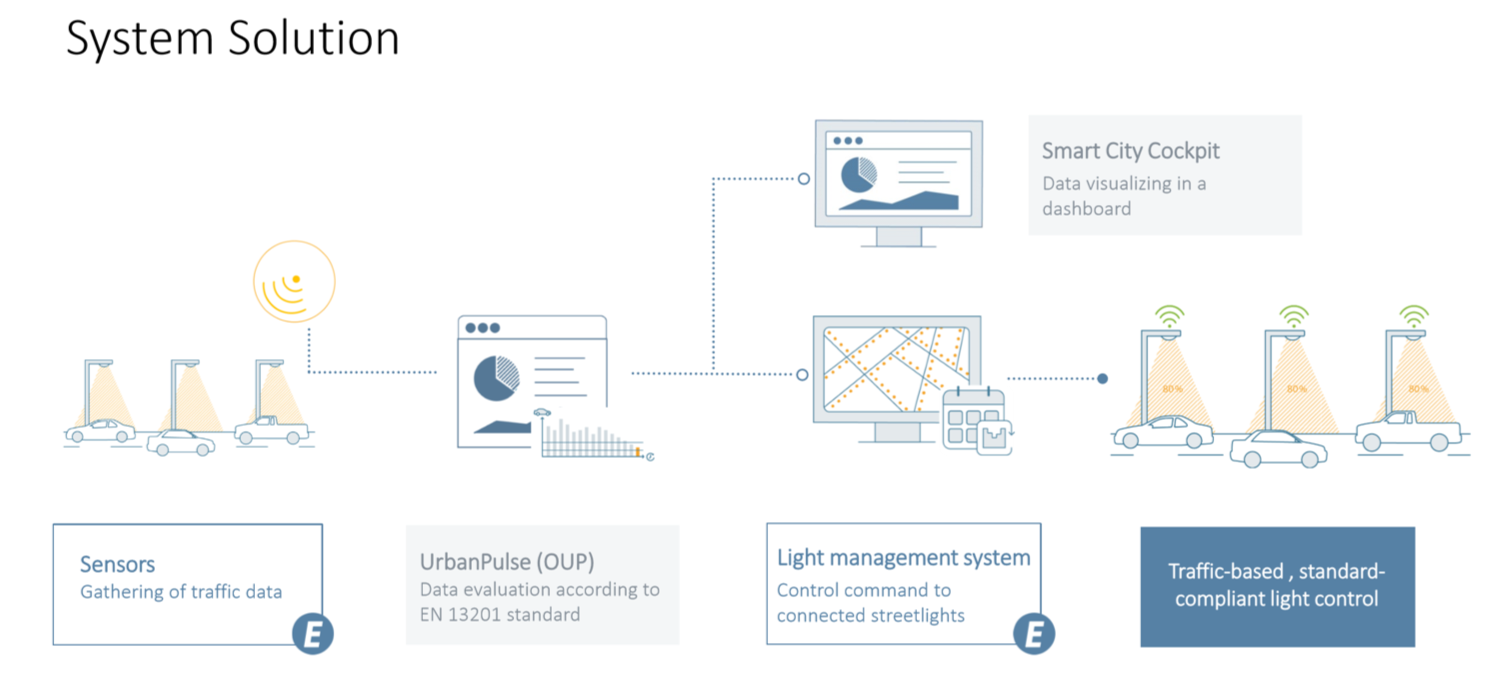 Other Applicable Sectors – Central Command & Control Platform
Integration of ALL systems and data into one platform (real-time)

The platform is able to connect to just any system and to process their data on a harmonized level. This is the basis to interconnect systems, interact between totally different systems and to create value of data beyond their single use case. There will be no overall view with such platform. The platform is open to any technology and any vendor – so it is absolutely future-proof.

Customized dashboards can visualize just any data, analytics, calculations, maps and alerts. Individual use-cases for overall-view, energy-management, water consumption, facility management, security, waste and much more.

Security feature is a good alternative for where cameras could not be used. Also a good complement to cameras to increase the level of information. The system also could be related to other systems trough the platform. With this it can create automated action

Transparency is the foundation of smart action. Our platform pro- vides the opportunities to create transparency in many different fields like energy, security, water and air quality. Even down to the level of single rooms. But generating all these information is one thing. What is making the difference, is to gain the right knowledge out of the generated information. With our analytics, machine learn- ing and AI we are able to optimize and even to PREDICT the usage of systems and energy. Meaning, it will be possible to keep the en- tire energy-consumption on a low level and to avoid high peak-consumptions of the building – just as one example. Also the prediction of several events and upcoming usage will gain benefit in planning staff, planning procurement of energy and planning resources.